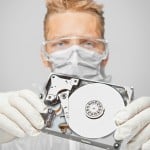 If your hard drive is giving problems, you should immediately power it down and contact us at Dave's Computers. This is even more significant if you have Apple Macbook as there are several identified issues with the older models made in the year 2006 and 2007. It is suggested not to attempt Apple hard drive recovery on hard disk that makes strange noises as it will worsen the whole situation. If your Apple hard drive is damaged, if your data gets corrupted or the operating system gets damaged, our expert engineers are always there to assist you. They have several years of experience in hardware and provide file recovery for different kinds of operating systems and versions of Mac OS.
We are well aware of the file systems and Apple applications. Our engineers can also restore a corrupt Time Machine and recover iPhoto images completely. They will restore corrupt or lost data in no time. We offer Apple data recovery services 24/7 and 365 days in a year. It might occur that while adding entries to your client address book, it disappeared from the computer. In such a situation, Dave's Computers can save you. Our services are available all over the nation, so you can attain Apple Data Recovery anywhere.
The unique three step Apple HDD recovery solution has the most aggressive scheme for recovering your valuable data. We also provides you the most cost effective Apple hard drive recovery as we begin with the initial level of advanced software and hardware data recovery and allow you to decide if stronger hard drive recovery steps are worth following. Our dedicated data recovery laboratories are one among the most advanced in the entire world, although our current plan of steady growth onto the recent storage gadgets guarantees we set the standard in the market. Whenever you lose any of your important data, contact us at Dave's Computers for efficient and quick Apple data recovery.