Is there a difference between an Apple hard drive and a Windows-based one? Yes. It has to do with the type of Mac computer that you may have, the operating system, and other hardware factors, but the tools that would work for data recovery on a Windows-based system are not going to work for an Apple.
Whether you have a Macbook, an iMac, an iPhone, an iPad or some other Apple computer, when you have a problem with the hard drive it can leave a sinking feeling in your gut. You don't want to lose all of that valuable information: apps, programs, documents, music, videos, contact lists, and much, much more.
That's why you deserve to have the best data recovery experts who understand Apple and have the right tools to get the job done.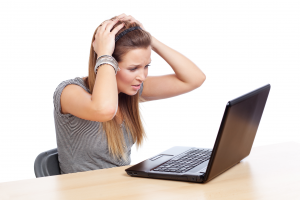 Get High-end data recovery services for your Apple computer at Dave's Computer's Inc, in New Jersey.
As an example of what could go wrong, one ambitious woman lost the entire list of customers she made with three hours of hard work on her Apple computer. When she opened the list to re-check, she found that list had only three entries in it while all the others were missing. Just imagine what trauma she faced at that point of time. When you require data recovery services like this, contact Dave's Computers. We offer some of the best data recovery success rates you'll find throughout New Jersey, and elsewhere for Apple and other computer systems.
How Data Gets Lost
There are dozens, even hundreds of ways that data can be lost. It could be due to an accidental deletion (you deleted the file and then emptied the 'wastebasket'. You could experience a hard drive failure on your Apple computer. Maybe you downloaded a virus unwittingly and it erased the directory, meaning your computer could no longer find the files on the hard drive. The computer could have been dropped or something spilled on it.
As many different people as there are out there who own Apple products, there are ways that hard drives can be damaged or files lost. At Dave's Computers, we have seen just about everything. We know what it's like to experience that sinking feeling in your gut when you think that all is lost.
Rarely is All 'Lost' when it Comes to Apple Hard Drives
Even if the hard drive fails, often the files that are on it can be recovered. It takes experience, the right tools, and some know-how, but in most cases it's possible. Dave's Computers ranks up there are one of the best at data recovery, with a success rate hovering between 95 and 98 percent.
No matter what you use your Apple device(s) for, you likely have a vast amount of information stored on the hard drive. Backing it up is a good idea, but that's not only feasible.
While we don't ever hope you find yourself in that unenviable position of staring at a blank screen and realizing that your hard drive has failed, we want you to know that more likely than not those files are still safe.
Contact the experts at Dave's Computers to bring them back to life for you.