Refer a Business Connection or a Friend, You Will Get $50!
If you would like to earn some extra cash, become a Referral Partner for Dave's Computers. When you refer Dave's Computers new clients, you will get $50 cash for every referral that is qualified, regardless of whether or not they sign up for services! If your referral then turns into a client, you could earn as much as $1,000!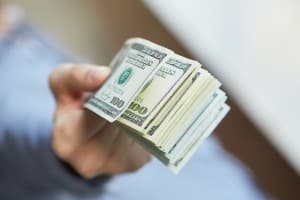 How our Referral Program Works
Use the Dave's Computers referral form, which is located on the bottom of this page, to submit your referrals. For every single referral you connect with us, you will be emailed a confirmation. All you have to do is sit back, relax and then wait for us to send your referral check in the mail. Yes, it is really that easy to make money by referring customers to Dave's Computers!
Who Classifies as a Qualified Referral?
A lead who is actively seeking IT support is considered a referral who is qualified for this offer. A minimum of 4 workstations are what we require. Referrals should have real interest in a no-obligation network assessment as well as our IT services proposal. We will do all the work and come up with the plan that best suits their needs. All you have to do is send us the contact information, then we will take care of the rest.
Who Can Send Dave's Referrals?
We work with employees as well as business owners. We can make the referral check payable to you, as an individual, or to your business. Just let us know which you prefer.
Send Me the Money!
If we get connected with the referral and submit them a network assessment and IT services proposal, you will be sent a check for $50 within 15 days! This bonus is regardless of whether they sign up for our services or not. Plus, you can send us as many referrals as you can.
If your referral becomes one of our clients, you get a bonus! We will give you a percentage of the first month's contract with the referral, which could mean as much as $1,000 in your pocket! (The bonus is paid after referral has been an active client for 60 days and has paid their first invoice)
Don't Wait Any Longer! Send us your referrals today so you can start earning extra money! This can be some of the easiest money you have ever earned! We promise your referrals will be treated right.
What are you waiting for?
CLICK HERE to complete the form and submit your referral now! You could be making money before you know it!
Contact Us