Everyone regrets seeing the "Blue-Screen".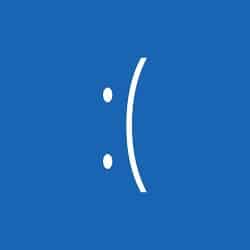 The dreaded blue screen is still something that many people worry about seeing – though not everyone calls it that anymore. Now it is better known as a "Windows Error" message. This is something that either pops up at random or shows up when you boot up your computer. It is a blue screen with a bunch of difficult to read the writing and it just looks pretty scary.
The good news is that it doesn't have to be. The blue screen doesn't necessarily mean that your computer is beyond repair. Instead, it means that your computer is asking you to get help for it. That's where we come in! Bring your computer to Dave's Computer Repair & Data Recovery and our team will take a look at what is wrong with it. We will make the necessary repairs and get it back to you in a timely manner.
Unfortunately, there are times when the blue screen is actually the blue screen of death and it isn't worth it to try to fix your computer – it will be cheaper for you to buy yourself a new one. If this is the case for you, our team can help you with data recovery and getting as much as you can out of your computer so that you can start over. The most important thing is that you work quickly so that we can get what you need.
Fill out the contact form below to get support and Dave and his team will reply shortly!