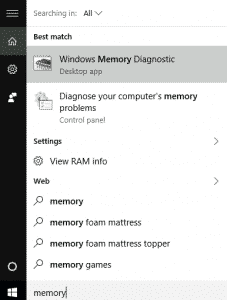 Yesterday I spoke about using MemTest86+to troubleshoot PAGE_FAULT_IN_NONPAGED_AREA errors. It got me thinking more about memory troubleshooting. MemTest86+ is an excellent tool but it isn't the only one we can use to check memory issues. In fact, Windows 10 has a memory testing app built in called Windows Memory Diagnostic. Let's take a look at how to use it.
Windows Memory Diagnostic isn't quite as thorough as MemTest86+ but it's a good place to begin your troubleshooting. It is built into Windows and lists its results in Event Viewer.
Windows Memory Diagnostic
Windows Memory Diagnostic is a tool built into Windows that performs a range of tests similar to MemTest86+. It requires a reboot and will interrupt the boot to run before Windows core files are loaded. You can also access it using Advanced Startup if you need to.
Type 'memory' to the Search Windows/Cortana box.
Select Windows Memory Diagnostic and select 'Restart now to check for problems'. This is a command not a setting so your computer will immediately reboot.
The tool will automatically load instead of Windows and will perform the tests. You will see a blue screen with simple text telling you what's going on and the percentage of completion. Once the tests are complete, your computer will boot into Windows.
Click the Windows Memory Diagnostic popup in the notification area to see the results.
If you're fortunate, you will see a notice that says 'no errors were found'. This is a good indication that your RAM is fine. If you do see errors, the popup should take you directly to Event Viewer where you can see what went wrong and where. If you aren't taken there, go to Event Viewer and find 'MemoryDiagnostics-Results'.
Advanced Memory Diagnostic
You may notice while in Windows Memory Diagnostic a small notice in the bottom left of the blue screen that says F1=options. This innocuous command is where you can access Windows Advanced Memory Diagnostic. So if the standard diagnostic doesn't find any faults but you're still experiencing errors, you can run deeper diagnostics from here.
I would suggest running an Extended diagnostic with two passes to give your RAM a real going over. If it comes out of that test clear, there is nothing wrong with the memory in your computer!
Have you used Windows Memory Diagnostic? How did you find it? Let us know below!