Directions from Middlebush NJ to Dave's Computers
Home to Franklin Township's municipal complex, Middlebush, New Jersey has a relatively small population and certainly hangs on to its country feel with tree lined roads and 19th century homes. One interesting note about Middlebush is the fact it still has a street named Railroad Avenue, even though there's not a single track anywhere in sight.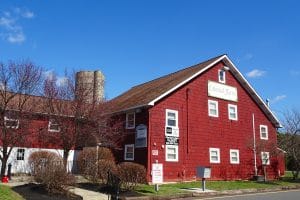 That's because the Millstone and New Brunswick Railroad used to have a stop here, though those days are long gone. Today, technology abounds among the estimated 2,350+ residents, and when they have a problem, they may need computer repair or data recovery services.
They can find both with Dave's Computers, which is only a short drive away or, if they prefer, they can ship their equipment to Dave's and get a fast turnaround time.
What Can Dave's Computers Do for You?
It can be a lonely feeling when you suddenly realize your laptop is not working. Recently, you may have noticed some problems developing. It was running extremely slow, some programs seemed to be hanging up, and occasionally you may have been greeted with a blue screen, though turning it off and then back on allowed you to login.
When your laptop, tablet, smartphone, server, or other computer devices suddenly stopped working altogether, you may feel like you have to go out and purchase a new piece of equipment. You may even feel like whatever you had stored on the computer is no longer accessible. That's may not be the case.
Depending on the situation, you may discover that the best, most experienced computer repair technicians and data recovery specialists can help restore your device to working condition or, at the very least, retrieve vital files and other documents, including contact information you may have stored only on your smartphone.
Convenient locations.
Dave's Computers is conveniently located close to Middlebush, New Jersey. For those who have any need for computer repair or data recovery services in Middlebush, New Jersey, they are encouraged to contact us right here in Hillsboro.
If that seems to be too far, we also offer ship-in computer repair services. That means you can drop your computer device, smartphone, or tablet in the mail via USPS, UPS, or FedEx, and contact us by phone or our online form to let us know the issue and we will take a look at it as soon as it reaches our store.
We can also ship it back to you, thus providing you the most convenient computer repair services you'll find anywhere throughout the state.
Experience is essential.
When it comes to any type of computer repair or data recovery services, experienced is one of the most important factors. Dave's Computers has the most experienced, knowledgeable, dedicated, and professional technicians as well as state-of-the-art hardware and top-of-the-line software to diagnose and repair many problems that affect computer devices today as well as recover files and other information that may have been thought to have been lost.
Fast turnaround.
Dave's Computers offers some of the fastest turnaround times for computer repair and data recovery services throughout Middlebush, New Jersey and the surrounding area.
When you need computer repair at a moment's notice, contact Dave's Computers right away. One of our experienced technicians will be more than happy to assist you and give you a better idea about what you're facing and what can be done to help.