There are many things that can disrupt your day-to-day business, but few can really stop you on your feet like a computer problem. From calendars to automated booking to customer payments, the IT sector of your business, no matter the size, requires computer services that you can trust. Forging a good relationship with an IT services company in New Jersey can help you to get back to work as soon as possible in the case of an outage or faulty computer.
IT and computer services can cost quite a bit of money, but it doesn't have to be that way. Whether you are looking for a one-time job or a company that will be there for you whenever something goes wrong, it is beneficial to have a company that you can trust.
IT Services Prevent The Worst From Happening
Many business owners live in fear that they will turn on their computers and everything will be lost – but they think it doesn't happen all that often. As a computer service in New Jersey, we can tell you that it happens more frequently than you think. By treating it only as a fear and not something preventable, you are risking losing not only a few days of work, but your reputation. When you have downtime, not only will you have to cancel on clients, but your schedule may be shifted and busy for weeks afterward. We all know what happens when you are stressed and packed full – there is little time to fit people in (meaning you may lose paying clients) and you absolutely have to stick to it, which means there is very little time for sicknesses, extra attention, or surprises.
But it isn't just when your entire system goes down – even a printer operating a little slowly or your wireless router not connecting properly can take away precious moments where something else can be done. Think about: waiting an extra minute for a webpage to open will equal hours and hours at the end of the month.
Some companies will consider a full-time IT team or at least a full-time employee who understands the system. On average, an IT professional earns between $40,000 to $70,000 per year, which is a big expenditure for most businesses. Bigger companies can afford it, but small companies can barely afford to pay the employees that do the work that much.
So, what is the solution?
Flat Rate IT services in New Jersey
For most New Jersey businesses, a flat rate IT service is the best approach until you can scale. Flat rate IT services work on a monthly, quarterly, or yearly contract for IT management services. You will agree on what those services are with the IT company before signing the contract.
The best way to find a computer services company in New Jersey is to look for a firm that won't just do the work and leave, they will help you brainstorm how to prevent the problem from happening again and even foresee problems that arise. That way, you won't have any downtime where you lose money.
Flat rate computer services in New Jersey will monitor your network regularly for any problems or bottlenecks that could result in problems. Of course, if something does happen, they will be there to fix them as well.
What If My Computers Are Normally Fine?
Most computers are normally "fine," but we all know what it is like to have problems that can stop us instantly. A perfectly working network can go down in a few seconds with little warning – at least for those who aren't trained to see it. No network is perfect all the time and upgrades are constant. Add to that the threat of cyber-attacks, hackers, viruses, fire, flooding, theft, deletions, employee errors, and just general wear and tear and you have a problem on your hands. Waiting until it happens is often not enough.
Advantages of Flat-Rate IT Services In New Jersey
The biggest advantage of having a flat rate IT service in New Jersey is that you know exactly what you are paying, and you can fit it into your budget. There aren't any surprises. Hourly IT support can come with a lot of surprises that you cannot budget for, something many small businesses cannot afford. More so, the IT needs of a business in New Jersey are diverse and dynamic – updates, devices maintenance, software upgrades, hardware failure, cyber threats. You need to prepare for all of it.
If you decide to go piecemeal, you may need to hire different IT handlers to address each problem. Not only will this inevitably cost more in terms of money, but it will cost you time. You will have to research, discuss, and take time out of your day to monitor those individual contractors. With a flat rate, you will form a relationship where you can trust the work that is done and the billing – no unforeseen charges, no exaggerating the time spent working on something, and no shady people entering your business.
However, there are more benefits:
Active Monitoring Of Your Network. One of the biggest advantages of flat rate billing is that you get active monitoring. This means that your system is inspected and monitored for potential problems. Not only does this erase some of the doubt in the back of your head whenever you save a file or go home during a thunderstorm, it will ensure that you don't have downtime that takes away days and days of productivity.
Eliminate IT Failures & Downtime. Most IT failure could have been prevented, that's the sad truth. By routinely monitoring your network, expensive downtimes are eliminated with efficient fixes that will not impact the day-to-day productivity of your employees.
No Extra Charges For Data Recovery or Disasters. If you lose your data or there is a disaster, it can be devastating or at least frustrating. The biggest hit comes to your finances, however, if you do not have a plan in place to recover. Having a computer service in New Jersey that will start working immediately can help to alleviate the frustration and allow you to work on solving the other problems that come your way.
No Hidden Charges For Services. For pay as you go services, there are almost always additional charges that you couldn't have anticipated, even though you know there will be some. Whether it is overtime, multiple technicians, or pieces and parts that didn't expect, you have to pay for them. For most people, they don't have the background to know if they are being tricked into paying more or not. The pricing of flat-rate services is more upfront, transparent, and all-inclusive. If there is something extra due to an extreme event, it is always discussed and agreed upon beforehand.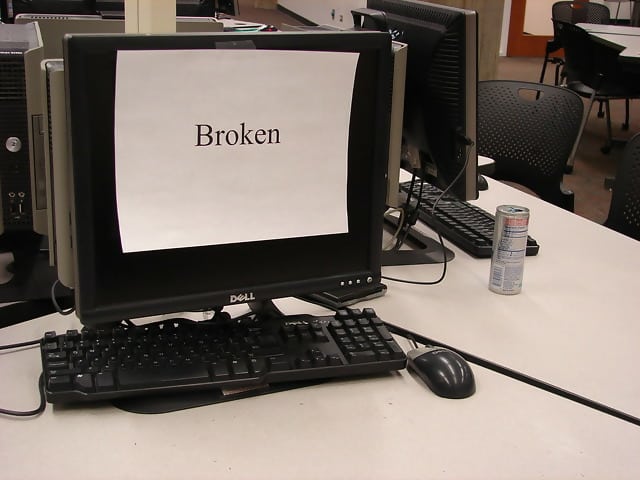 A Dedicated Help Desk For Support. If there is a problem, you have a guarantee that there will be someone there to help you address it without further costs. No further consultation fees arise no matter how many times inquiries are made – or how often.
All Software, Security, and Compliance Updates Handled. These types of updates can take time and effort that you just don't have – and often, they are just forgotten in the hustle and bustle of a day. With flat rate computer services in New Jersey, you can forget about it completely and know that it will happen without an interruption to your workday.
No matter what, there is always something to do to your computer systems. Whether it is an update, some retooling to improve speed, or just general maintenance to ensure everything stays perfect, it can be a long battle. The best things to do is utilize flat-rate computer services and IT support in New Jersey by finding an agency that you can trust. Your employees will appreciate some of the pressure taken off of them (especially those who know a little bit about computers) and you won't have to worry that one wrong move will completely destroy everything. There is so much to be done within your system and with so little time, you shouldn't have to worry about it. Hiring a "once and done" computer won't be helpful either – they will overcharge you, make you wait weeks for a solution, and then surprise you with overtime and "emergency" rates.
There is too much to be done on your own, and following your computer and network needs can be stressful. Of all available options, flat-rate IT services still remain the best option for businesses of any size in New Jersey. Interested in working with a computer services firm? Contact us today for more information about our plans.
Contact Us