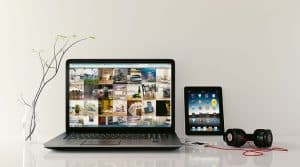 March 31st was World Backup Day. Did you celebrate it? Did you even know World Backup Day was a thing? You could be forgiven for not knowing as it's mainly geeks like us at Dave's Computers that even knew such a thing existed. We wish more people knew about it though as it encourages everyone to keep their information safe to prevent data loss.
If you're new to backups, it is important to get up to speed as quickly as possible as your digital life is literally at stake. According to the World Backup Day website, 30% of people have never backed up. That is too many and with automation making it easier than ever, there really is no excuse.
Other stats on the site shed more light on why backups are so important. It says, 113 phones are lost or stolen every minute while 1 in 10 computers are infected with a virus every month. Add to that the criminal element who would just love to hold you to ransom or delete your data for kicks, there are lots of reasons every computer and phone should be backed up.
The data recovery team here at Dave's Computers is always busy. That means too many of our Hillsborough neighbors don't know the importance of backing up their data in case the worst happens.
Back up your computer
You should always back up your computer. Windows 10 has File History included to make backing up your data simple. While it does use a huge amount of hard drive space, it is a worthwhile tool that automates backups so you don't have to worry about it. Apple has included backup software in macOS since 2007 called Time Machine. Both do a very good job of keeping your files backed up and easily accessible should the worst happen.
There are also a range of third party programs that make backups easy. They all cost money, but it is money well spent considering how much data is stored on the average home computer.
With external hard drives being cheaper and more reliable than ever, they make for the perfect backup solution. A copy of your computer stored on an external drive and a further copy of your essential files stored in the cloud provide all the security you need to keep your data safe.
You can use Microsoft OneDrive or Apple iCloud to store your essential files in the cloud for free. Both systems offer a decent amount of storage space if you have a Microsoft or Apple account with more space available to purchase should you need it.
What data to back up on your computer
Knowing how to back up your data and knowing what data to back up are two different things. So what should you back up? You should back up the contents of the Documents folder to save all your information. You can also back up the Images and Video folders if you take pictures and shoot video on your machine.
If you save data to other parts of your computer, it makes sense to include those too. Alternatively, just back up everything with a full system backup or clone of your hard drive.
Back up your phone
As well as backing up your computer, you should not overlook your cellphone. Most of us use our phones for a lot more than calling which means there will be a lot of data on it. Contacts, bookmarks, saved work, emails, SMS, images, and video are all worthy of backing up if you use any of them regularly.
Usually, the smarter the phone, the more data there is to back up. This is even more true if you use your phone for work.
iPhones have a real advantage here as they can back up using iCloud or iTunes. Both offer seamless backups that can be largely automated. Backing up over iCloud means your files are stored online. Backing up using iTunes means your data is stored on your computer. Both go a long way to prevent data loss.
Android users can use Google Drive to achieve the same thing. You can set your phone up to automatically back up to Google Drive using Sync features. Google Sync will automatically back up your email, calendar, images and videos. You can also configure it to save your app data, call history and other data if you wish too but that takes a little tinkering.
Other types of backups
Depending on your needs, you can also back up your social media data. If you share lots of images and video on social networks, you might like to make a copy of everything online. If you use Instagram for example, it makes real sense to back up all the images you have shared in case something happens to the servers or service.
There are specific tools for that, including digi.me that will automatically download and save all media you post to a wide range of social networks including the major ones and some more niche networks.
Music is another area where collectors might invest in a backup solution. Especially if you have converted all your old vinyl or CDs into MP3 and have them saved on your computer. The size of this kind of backup would likely require an external drive to back up an entire music collection.
Alternatively, you can back up using iTunes or Google Play Music depending on what format your music is and how much of it you have.
The data recovery team at Dave's Computers is a lucrative part of the business but in all honesty, I wish it wasn't. I would much prefer it if everyone backed up their data and kept it safe from harm. With everything from memories to memorandums being stored on our devices, keeping all that data safe is imperative.
With all the necessary tools being included in our computers and phones, it has never been easier to keep your data safe. Data recovery is time consuming and not guaranteed to save everything so save yourself the trouble. Even if it's a little late, celebrate World Backup Day by backing up your devices.