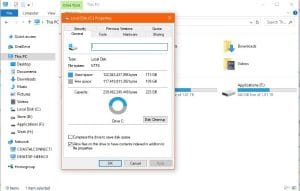 The Windows 10 Fall Creators Update released yesterday and will be gradually rolling out across the world. We have not yet heard of any show stopping issues with the update and things seem to be going well so far. The computer repair team here have been playing around their the test rig running the update for a day now and haven't found anything majorly wrong either.
So if you want to install the Windows 10 Fall Creators Update, here's how to prepare your computer for it.
Preparation
Fail to prepare, prepare to fail. Before you do anything, you should check with your hardware vendor that your computer is fully compatible with the Windows 10 Fall Creators Update. It could save a lot of time and effort so should be the first thing you do.
Then create a Windows installation media of your current version of Windows before the update. That way, if anything catastrophic goes wrong, you have the tools to hand to rebuild your computer quickly.
Housekeeping
I, and the computer repair team advocate keeping a clean computer at all times but especially before an upgrade. It not only gets rid of the trash but clears out space for the download and ensures your computer doesn't spend time looking at files that aren't relevant when checking your system.
Delete any files and programs you no longer need or use.
Run Disk Cleanup on your C: drive and any other drives while you're there.
Run a registry cleaner such as CCleaner to make sure everything is in order.
Uninstall any third-party firewall, antivirus and malware scanners as they can interfere with upgrades.
To run Disk Cleanup, right click a disk in Explorer, select Properties, the General tab and Disk Cleanup.
Driver updates before the Windows 10 Fall Creators Update
It always pays to be prepared, so installing any Windows or driver updates before the Creators Update will make sure your computer has everything it needs before the main event.
Update all of your drivers including graphics, audio, chipset, network and BIOS if you are comfortable updating your motherboard.
Download updates for all of your programs, especially third-party firewall, antivirus and malware scanners. This makes sure they will be compatible with the Windows 10 Fall Creators Update. Don't install them yet though.
Backup in advance of the Windows 10 Fall Creators Update
Once your system is cleaned, up to date and ready to go, you should back it up. Create a Windows Restore Point or use your third-party backup option if you have one. If you have critical files on your computer, back them up to OneDrive or a USB key just in case. Windows Update is designed to not overwrite user files but it is far better to be safe than sorry.
Clear the afternoon for the Windows 10 Fall Creators Update
Even if you have a fast computer, installing a big update like this can take a while. If everything goes perfectly you could be done in an hour. If something goes wrong, you could be there much longer.
Don't put time pressure on yourself by installing the update if you have an appointment or need the computer. These things take time, so give it the time it needs and everything should be fine.
Once installation is complete, install your new antivirus, firewall and malware scanners to protect your system.
If things do go wrong when you install the Windows 10 Fall Creators Update, the computer repair team at Dave's Computers in Hillsborough, New Jersey will be here to help.