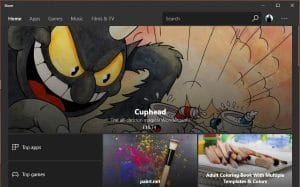 Windows Store issues used to be very common in the early days of Windows 10. Incremental updates and improvements have gradually made it easier to bear, or more invisible, depending on how you use your computer. If you are having trouble with it, one quick way to fix it is by resetting the Windows 10 Store cache.
Windows Store is an integral part of Windows 10 and whether you use the store or not, it is there and will remain so while Windows 10 is around. The good news is that the Store is easier to use than ever, more reliable and much more user friendly. The not-so good news is that you have no choice but to live with it.
The computer repair team here at Dave's Computers used to have to reset the Windows 10 Store cache for clients all the time. Since the many updates to the OS, we are having to do it less and less. If you're having issues with the Store, this is a quick way to overcome it.
Reset the Windows 10 Store cache
The term may seem involved but is actually very easy to do. What it achieves is clearing out any saved items within the Store and forces Windows to download a fresh item list. This also resets any corrupt files which are often the cause of Store issues.
If you use a third-party firewall, you will need to temporarily enable Windows Firewall for this to work. Windows Store and Firewall are tightly linked and the cache reset and a few other Store commands will not work if you don't have Windows Firewall enabled. Fortunately, you can enable the firewall in Windows Services and have it running alongside your other firewall temporarily.
Right click the Windows Taskbar and select Task Manager.
Select the Services tab and then Open Services in the bottom of the window.
Select Windows Firewall, right click and select Enable.
Leave the Services window open.
Then:
Right click the Windows Start button and select Command Prompt (Admin).
Type or paste 'WSReset.exe' and hit Enter.
Allow the process to complete.
Depending on your computer, this could take a few seconds or a minute. The Store process should restart but not always. Once complete, open the Windows Store if it doesn't happen automatically and it should work perfectly.
Go back to the Services window and disable Windows Firewall if you need to. While you can theoretically run two firewalls without issues, it does have a tendency to slow traffic down.
Dave's Computers in Hillsborough, New Jersey is here to help with any computer repair problem you may have. Call us or drop into the store and we would be happy to help.