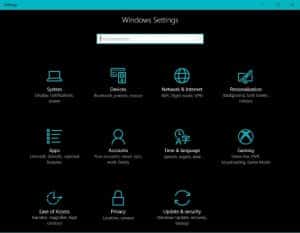 Our computer repair team spent some time over the weekend downloading the Windows 10 Creators Update. Available to download from April 5 with official release April 11, the update will make its way to every Windows 10 computer over the coming weeks.
The Windows 10 Creators Update is large and contains quite a few changes and a couple new features. So what is it? What new features does it bring and what should we all be aware of?
I have had the Windows 10 Creators Update on one of my computers for a little while as I am part of the Windows Insider program. However, anything you see when you are in the program isn't necessarily what you get to see at release. Which is why I have been reserving judgement until now.
If you don't want to wait, you can manually update your computer from Microsoft's update page.
Windows 10 Creators Update
My view is that the Windows 10 Creators Update is more for Mac users than existing Windows users. It seems Microsoft wants to lure more people away from Apple with these new features than offer existing users anything amazing. Creatives predominantly use Mac and Windows is obviously now trying to offer a viable alternative.
There are a couple of non-creative improvements though. One of which will make our lives as computer repair specialists a little easier.
Windows Defender Advanced Treat Protection (ATP)
Windows Defender Advanced Treat Protection (ATP) being an enhancement to Windows Defender that will make business machines more secure. It beefs up security by introducing the ability to scan memory and the Windows kernel for threats. This has been a blind spot for Windows for the longest time and is now being addressed.
This is only available for Windows 10 Enterprise to begin with but we fully expect it to roll out in a more automated form over the next year or so.
Privacy improvements
Another welcome feature of the Windows 10 Creators Update is privacy. The concerns of Windows 10 privacy have been well documented. While the Windows 10 Creators Update doesn't change a whole lot, what it does do is make it much clearer what Windows wants to know and why. Microsoft has also said they have pared back the amount of data they collect from your machine, which is always good news.
When you install the Windows 10 Creators Update, you will see the familiar privacy page you saw when upgrading to Windows 10. This time however there are fewer options with much better explanations. They are still all defaulted to 'on' though so you will need to switch them all off to maintain any semblance of privacy.
Unified Update Platform (UUP)
The Unified Update Platform (UUP) is a technical sounding improvement to Windows Update. This improvement means that Windows updates will be managed much more efficiently. The files should be smaller and contain incremental updates rather than downloading every available update regardless of whether you already have it or not. Windows Update will now only download those your system doesn't have.
The UUP also assess whether you actually need certain updates. This should lower the overhead significantly and prevent you having to download, install and reboot updates that bear no relevance to your computer at all.
Paint 3D
Now we get to the creative part of the Windows 10 Creators Update. Paint 3D takes the age-old Microsoft Paint and brings it bang up to date. It can not only perform the 2D tasks of the old Paint but now also create 3D objects and other useful stuff. I'm not an artist, but even I had fun messing around with the 3D part of the program.
You can create objects, spin them around, undo changes and generally play. There is also the inevitable social app called Remix 3D. I didn't play with that but it looks okay if you like to share.
Game Mode
Game Mode takes the existing Xbox oriented Game Bar and includes some neat Windows tweaks. It is a switchable mode that says it pauses many background processes while playing games on your computer. In theory, this allows the computer to dedicate more resources to the game, allowing a smoother experience and potentially, the ability to enjoy better graphics as a result.
I tested Game Mode with Ghost Recon: Wildlands and didn't notice any difference. This may be because my computer is plenty powerful enough or because it hasn't been tuned to work with the game yet. Either way, the jury is out on Game Mode for now.
Edge improvements
One of the more significant everyday improvements brought by the Windows 10 Creators Update is the Edge update. While miles better than Internet Explorer, it still lagged behind other browsers in terms of functionality. That gap has now narrowed with this new version.
You can now preview tabs by hovering the cursor over them. You can also save them for later or reload ones from a previous session to revisit. Both are a nice addition to a browser that sorely needed improvement.
Good news for us computer repair professionals is that Edge will now block Flash by default. Flash is a common way viruses and malware get into computers so blocking all Flash does a lot for the security of your system.
Night Light
A small but neat new feature is Night Light. This enables Windows to turn down the blue in LED screens to help reduce eyestrain when it gets dark. You can manually switch it on but Microsoft says your computer will automatically detect when dusk falls in your part of the world and adjust accordingly. I have yet to see that happen but have played around with Night Light a bit and like what it does.
Anyone expecting show stopping new features in the Windows 10 Creators Update is going to be disappointed. While it does improve a few things, there is no massive improvement or revelation in this new version. Instead, consider it a large normal update with a few treats included. As Microsoft have a further significant update planned for later this year, we here at Dave's Computers are hoping for more improvements then.
Have you tried the Windows 10 Creators Update yet?