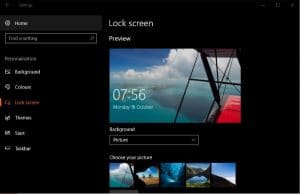 If you share your computer or use Windows 10 at work, customizing the lock screen is one way of personalizing your desktop. As long as you have permission, you can change the lock screen background in Windows 10 to anything you want. It's a small thing but can make a big difference if you leave your computer on while locked down.
Windows 10 introduced the ability to add apps to the lock screen. They can include email, calendar, weather and a few others too. Again, a small thing that can make a lock screen more attractive or even more usable.
Change the lock screen background
To change the lock screen background in Windows 10, you will need some images and two minutes of your time.
Right click the Windows Start button and select Settings
Select Personalization and then Lock screen in the left pane.
Select Background on the right.
Under Background, select Picture, Windows Spotlight or Slideshow.
Select the images or images you want to use.
You can select an individual image for Picture or a folder containing multiple images for Slideshow. Windows Spotlight is its own thing and works differently.
Add apps to the lock screen background in Windows 10
Adding apps to the lock screen background in Windows 10 enables you to keep up with emails at a glance, check calendar entries, see the weather, check for Skype calls and all that good stuff. Here is how to enable them.
You will need to be in the Lock Screen Settings menu to make changes.
Select the icon under 'Choose an app to show detailed status'. Scroll down from the picture selection to find it.
A list should appear showing the apps you have installed. Select an app as your needs dictate
Select one or more icons under 'Choose apps to show quick status' if you would like to add more.
The first app selection shows a lot more detail than the quick status app. Select the app you would use more for this. The others will show a line or two excerpt but are still worth selecting.
That is all there is to changing the lock screen background in Windows 10. It is a small change but can add quite a bit of utility to how you use your computer. Hope it helps!
Dave's Computers in Hillsborough, New Jersey is here to help with any computer repair problem you may have. Call us or drop into the store and we would be happy to help.