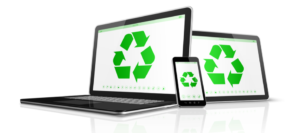 Dave's Computers can help you get rid of that desktop or laptop computer! When your home computer has bit the dust or you need bulk office computer disposal, there is an easy way to get rid of your laptops, hard drives and desktop computers. Dave's can help responsibly dispose of a single laptop or an entire office of desktop computers in your area.  We offer easy and affordable computer recycling and disposal services near you.
Dave's Make's it Easy & Secure!
We will take away any and all of your unwanted laptops and desktops. With every recycling of desktop or laptop, we destroy each internal hard drive. This assures that everyone's data is destroyed and not accessible in the future by anyone receiving the recycled material for processing. We even provide pictures of the hard drive destroyed prior to further processing of the computer for destruction.
Most Frequently Asked Computer Recycling Questions:
Where can I find computer recycling near me?
If you live within a certain radius of our office and opt for our premium pickup service and have over 10 PCs for pickup, we can come to your location for pickup. OR you can opt to drop off to our storefront in Hillsborough during normal business hours and drop off anytime no appointment needed
Do you recycle computer monitors?
At this time we are not taking computer monitors, due to mercury and other toxic chemicals, our recycling partner is not accepting those at this time. However please do call as this could change at anytime.
Do you recycle computer parts?
Yes we will recycling anything from memory, hard drives, computer case, cables and more. For more information please feel free to fill out the form at the bottom of this page for more details.
Do you remove hard drive before recycling computer?
Yes, every computer; desktop and laptop has it's drive removed and is crushed prior to moving further to our recycling center. This assures data is securely destroyed and prevent anyone from accessing your data.
Is the computer recycling free?
At this time there is a fee for recycling. The reason we charge is there is time involved for us to remove the internal hard drive, document that the hard drive was destroyed and provide proof of destroyed. While many places offer "FREE" they will not guarantee OR SHOW proof your hard drive was destroyed after you have dropped off your computer so often the "FREE" services can leave your personal data at risk.
Is there an electronics recycling event going on today?
As long as our store is open, we are always accepting recycling. Please call and fill out form below prior to stopping by to make sure everything you want to recycled is currently being accepted
Do you recycle apple computers?
Yes. We recycle Apple and all PC brands. If it's an all in one, desktop, laptop, tablet we recycle it!
Have more questions? Fill out form at bottom of the page:
Fill Out Form Below to Get Help Today