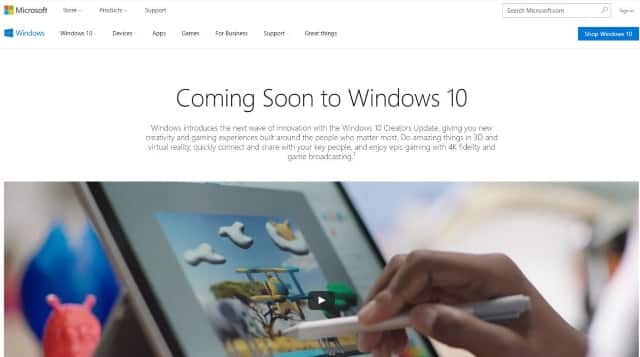 As a local computer store in a built up area, Dave's Computers in Hillsborough sees its fair share of infected devices. We tend to recommend the use of third party solutions and for people to not rely on Windows Defender and Windows Firewall alone to protect their data or their computer. That advice may change when the Windows 10 Creators Update arrives. The Windows 10 Creators Update is the next big release that is due sometime within the next couple of months. As well as a raft of improvements and features, it will bring us a new Windows Defender Security Center.
Microsoft are keen to tell us that 'Windows 10 is its most secure operating system to date'. While that's a big claim, anyone who knows Windows knows that refers to how bad previous versions were at security rather than how good Windows 10 is. Hence our recommendations to use third party tools to provide more effective protection.
I hope Windows Defender Security Center changes that.
Windows Defender Security Center
So what's new in the Windows Defender Security Center? According to Microsoft, it uses five pillars to improve overall security. Those five pillars are:
Virus and threat protection
Device performance and health
Firewall and network protection
App and browser control
Family options
Let's take a quick look at each of them.
Virus and threat protection
Virus and threat protection will give you a new dashboard to manage antivirus and related actions. It will work both with Windows Defender Antivirus or third party ones from the 'Microsoft ecosystem' whatever that means. This app will show you when your system was last scanned, scan history, AV updates and other pertinent data.
Device performance and health
Device performance and health sounds like it will combine Resource Manager with Device Manager and will include drivers too. There will also be the option to control Windows Refresh, programs, apps and system resources.
Firewall and network protection
Firewall and network protection seems to do exactly what it says on the tin. Bring a dashboard to show you more about how Windows Firewall is configured and working and combines Firewall with Network Connections to bring all network information into one place. The title says network protection, so I hope there is more to this than just Windows Firewall.
App and browser control
App and browser control looks to be a more user friendly UAC that combines SmartScreen and App preferences into a dashboard. Again, this seems a little thin but I'm hoping there is a little more to it.
Family options
Family options combines parental controls with 'advice' on screen time, activity reporting and other features. The option to control in-app purchases or app purchases will be useful though as I know of more than one parent to experienced bill shock thanks to some undisciplined purchasing within Windows apps!
Here is a Microsoft video outlining the changes.
<iframe width="560″ height="315″ src="https://www.youtube.com/embed/QE-3zbvtdKI" frameborder="0″ allowfullscreen></iframe>
What none of the released information on the Windows Defender Security Center update tells us is whether the core product will get any better. Will Defender AV perform any better and will Windows Firewall begin to track outgoing traffic? Nothing I can find will tell me if either of these two scenarios are coming in the new update.
If they don't, then our advice will not change. I will still advise our customers to use a good quality third party firewall and antivirus solution. If the AV and firewall protection is improved in this update, we will assess and perhaps reevaluate that advice.
Windows 10 Creators Update
As we know, the Windows 10 Creators Update isn't the only major Windows 10 update coming this year. The so-called Redstone 3 update is due before the end of 2017, so what will the Creators Update offer us in the meantime?
New desktop colors
If you like to personalize your Windows desktop, you're going to like the new desktop color options. Rather than picking some presets and tweaking them, you will be able to use a whole range of colors complete with previews and a range of features that implement the color choice more effectively across the desktop.
Premium desktop themes
If you cannot design a desktop theme for yourself, you will have the opportunity to buy a premium theme from the Windows Store. Exactly how much these will cost isn't known at the moment though.
Stylus support for Word
If you miss the art of handwriting, the Windows 10 Creators Update will bring with it compatibility for pens with Microsoft Word. There will apparently be much more scope for commenting, writing and more. All changes will then be saved to the document to be used however you see fit.
Edge improvements
Microsoft Edge will also be getting the love with most opportunities to recover previous sessions and use tabs. Tabbed browsing will apparently get easier as a quick preview option showing the tab you selected will be implemented.
Groove Music Maker
If you're musical, the inclusion of Groove Music Maker may interest you. It looks like a simple app that you can use to create ringtones, game music or whatever. I haven't got to see much of it yet so I cannot comment too much.
The People Bar
The People Bar will add a People element to the Taskbar and offer little widgets to connect with people in various ways across the operating system. It looks like it will offer the ability to switch between IM, Skype and email seamlessly which I'm sure will benefit someone somewhere.
The Windows 10 Creators Update seems largely to add more reasons to buy a Microsoft Surface or their new Studio computer. As long as the launch is smoother and contains fewer bugs than the Anniversary Update it should be fine.
The exact release date has yet to be announced by industry watchers say it is likely to be the end of March 2017. Watch this space!