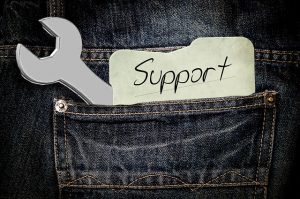 An effective computer support team should be like the Navy SEALS. Invisible and out of sight when you don't need them but right there and ready to rock when you do. When not in use, they should be training and practicing for when they are needed, ready to leap into action to fix whatever problem it is that you need fixing.
Now I'm not saying that the reality of computer support is even remotely like serving your country or laying your life on the line like a SEAL. What I am saying is that we could take a leaf out of their book if we want to deliver excellent IT support to clients. SEALS work hard, train harder and achieve every mission they are given. You don't see them or hear them but stuff gets done. We can go about our daily lives without having to worry about a thing because they keep us safe.
If a computer support team can achieve something even close to that, everyone is a winner.
Unfortunately, many IT support teams get it very wrong. It's why our industry is viewed the way it is. Similar to insurance, the product itself is designed to help you but the way it is administered is painful and getting help when you need it is even more painful. Just like some computer support outfits.
Dave's Computers is going change that. I'm listing five things our clients have told us irritate them about computer support. We have done something about all of them for our own remote support customers. Has your IT support done the same?
Five things that make clients dislike computer support
There are many things that irritate people about IT but these are the most common.
1. Not putting yourself in the client's shoes
A key skill for any technical support team is to have empathy. You must appreciate the position your customer is in and be able to empathize with that position. For example, you might not think losing access to a shared drive is a showstopper, but for the client it might be. All of their work might be there and they may be stuck without it. They may miss a deadline, get into trouble for not being productive or all manner of things.
Good computer support will put themselves in the position of the customer and do whatever they can to help. If you can go the extra mile you should and if you can add extra value to your service, you should do that too.
2. Making assumptions with no real evidence
I heard a recorded tech support call once that made me quite angry. An enterprise customer in New Jersey had called their IT support who had been offshored to India. Language and understanding was already an issue and as soon as the customer went off script, the agent was lost. They also assumed that because a computer wouldn't boot that the power supply was faulty and needed replacing. It went downhill from there and no matter what the client said, the agent had already made their mind up.
There are a dozen different things that can cause a computer to not boot and a few extra questions would have isolated the problem. Which turned out to be the UPS, not the computer. The customer experienced a delay while spares were sent and the expense of a new power supply when they could have just shifted to a different outlet for a while and carried on working.
3. Not asking enough, or the right, questions
Taking tech support calls involves a balancing act. We want to engage with the customer, ask lots of questions and get to the root of the issue but we have to appreciate that they might not have the time or knowledge to answer them all. Instead, what we have are a series of questions tailored to different situations to try to get the information we need to help.
We also engage the caller and let them know that we appreciate there are a lot of questions, but spending an extra couple of minutes on the phone to us could save a couple hours when fixing the issue.
4. Not getting to know the customer and their situation
Being treated as just a number is the main complaint of any number of customers of enterprise organizations. The bigger a company gets, the less able they are to respond quickly or offer a truly personal service. That's one of the reasons computer repair outfits like ours is so popular, because we are small enough to care and large enough to cope.
Knowing whether a particular server going down cripples the customer or not is an essential part of that. If you already know what they have installed and how they work, you know what kind of impact any issue will have. You can then respond accordingly and deliver the kind of service they pay you for.
5. Not being organized
Organization covers a few key elements. It includes call monitoring, ticket tracking, an escalation path, recovery plan, critical spares, complaints procedures, transparent severity categories, SLAs and more. The more organized you are as a company, the more confident the customer will be in you.
This comes into its own if there are issues with expectations or service delivery. If you can demonstrate your processes, prove your point and provide evidence to back it up, most customers will relax a lot more and be much easier to work with.
Providing great IT support is not rocket science, it's computer science. Like any industry, if you tune your service to meet the needs of the customer and not what you want to offer, your customers respond positively. Once you appreciate that offering computer support is like being a cop in that people only call you when they need you most, you begin to offer the quality compassionate service they deserve.
If you're looking for top class remote computer support from a company that cares, Dave's Computers can help. Our team of experience professionals are ready and willing to assist in any situation. Contact our New Jersey store today at 908-428-9558 and we would be happy to discuss your needs.